The following is Todd's story as he presented it to me in 2009. Like everything he created, he went to great lengths to craft this message for his friends and fans. When I read it now, I can hear the many discussions he and I had about the website design, the promotion of his music, and the excitement he felt about putting his music of God's love and grace in the hands of the world. Todd is gone now, but he lives on in the place he longed for so fervently, in Heaven by Jesus' side. We miss you so much, Todd. -- David Ramirez, web designer, toddmacdonaldmusic.com
A graduate of Gordon-Conwell Theological Seminary (Master of Divinity), Todd MacDonald writes songs with the thoughtfulness and heart of a true minister. Currently living in Nashville, TN, he has just released his debut album, Pilgrims Here (co-produced with Paul Buono).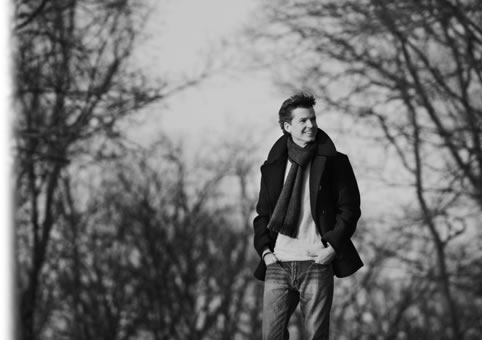 Born and raised outside of Boston, MA, Todd received his first guitar as a high school graduation present from his parents. Later that year, as a first-year art major at Boston University, he made his first tentative attempts at songwriting. Over time, Todd's writing became noticeably more God-centered as he began to sing about his life of faith – both its joys and its struggles – and to pour out his heart to God in prayerful song.
He was shaped by the Good News of Jesus at an early age. "I am blessed to have been raised in a Christian home," Todd says. "I have fond memories of family Bible studies by the wood-burning stove, and of my father playing guitar and singing songs to Jesus in our living-room. I'm sure these experiences played a big part in leading me to pick up a guitar later on in life…to sing about my own faith and love for God."
Upon graduating from seminary in 2004, Todd moved to his present home in Nashville, TN, to further devote himself to a ministry of music.
In January of 2009, Todd was diagnosed with a rare form of cancer called Peritoneal Mesothelioma. Treatment began with major abdominal surgery and was followed by many months of chemotherapy. His next surgery is scheduled for the second week of January 2011, and will be followed by additional chemotherapy.
"My treatment is going well, and my doctors are hopeful. But more importantly, the Lord is near to me. He is indeed the God of all comfort, who comforts us in all our affliction (2 Corinthians 1:3-4). It is common to talk of 'beating cancer.' But as far as I am concerned, my cancer has already lost, because while seeking to ruin me through suffering, it has actually increased my joy. I love Christ more now than ever."
As the apostle Paul writes, "We do not lose heart. Though our outer nature is wasting away, our inner nature is being renewed day by day. For this slight momentary affliction is preparing for us an eternal weight of glory beyond all comparison, as we look not to the things that are seen but to the things that are unseen. For the things that are seen are transient, but the things that are unseen are eternal" (2 Corinthians 4:16 -18).
As he is able, Todd continues to sing his songs for live audiences, whether at writer's nights around Nashville or in churches around the country.